Van Miu is a talented Makeup Artist who can do many impressive makeup layouts. She is often invited to work in big events and many important makeup projects in movies, game shows, fashion shows, etc.
SOME OUTSTANDING MAKEUP PROJECTS
Game show –Your Face Sounds Familiar (Vietnam Version) 2022
The presence of Van Miu in the role of Makeup Artist for the team Phuong Vu – Kha Han seemed to increase the advantage for 2 contestants at Your Face Sounds Familiar (Vietnam Version) 2022.
Van Miu Consecutively Received the Best Makeup Award of the Week
It's not easy to transform Kha Han and mentor Phuong Vu into famous celebrities to achieve the most character-like effect but Van Miu team created perfect work in a hurry and was very proud when consecutively received the Best Makeup Award of the Week…
Van Miu did Makeup for Miss Indonesia 2020
Van Miu Is Honored To Work In The ASEAN+ Tourism Beauty Contest 2022
In May 2022, Makeup Artist Van Miu and team were honored to be invited by the organizers of "ASEAN Tourism Beauty 2022" to collaborate on makeup for the contestants and had a great experience working with Miss World Indonesia 2020 Pricilia Carla Yules when she was one of the judges of ASEAN+ Tourism Beauty within the framework of the 31st SEA Games…
Makeup Project For Harper's Bazaar Magazine
Harper's Bazaar, one of the world's leading and iconic American fashion magazines, was first published in 1867. The magazine is known for publishing top-notch articles on fashion, design and creating stunning photo shoots that later became some of the classic images of fashion world through the years.
Van Miu Did 4 Makeup Layouts "Embracing Your Flaws"
Harper's Bazaar magazine asked makeup artist Van Miu to collaborate on a set of Face Art photos with the theme "Embracing Your Flaws" with four-season concept to honor the natural flaws of a woman in the context of the world. modern social scene when we no longer hesitate to express our individuality and beauty through the art of professional makeup and make-up.
MAKEUP ART – SINGER JUN PHAM
Makeup artist Van Miu always shows her own personality when creating creative makeup. As a popular celebrity on TikTok, the concept of creativity and creativity is always in the blood of this talented makeup artist.
OTHER MAKEUP PROJECTS
For Van Miu, whoever you are can be beautiful. Under her 'versatile transformation' hand, Van Miu confidently can do makeup to help everyone become the most beautiful and perfect being themselves.
Therefore, Van Miu is trusted by customers and is often invited to cooperate in large and small makeup events to celebrities, important events such as weddings, parties, photo shoots, shows… With experience With more and more skillful makeup experience, Vanmiu always knows how to transform customers to look more beautiful than they expect.
Read the Vietnamese post about Van Miu here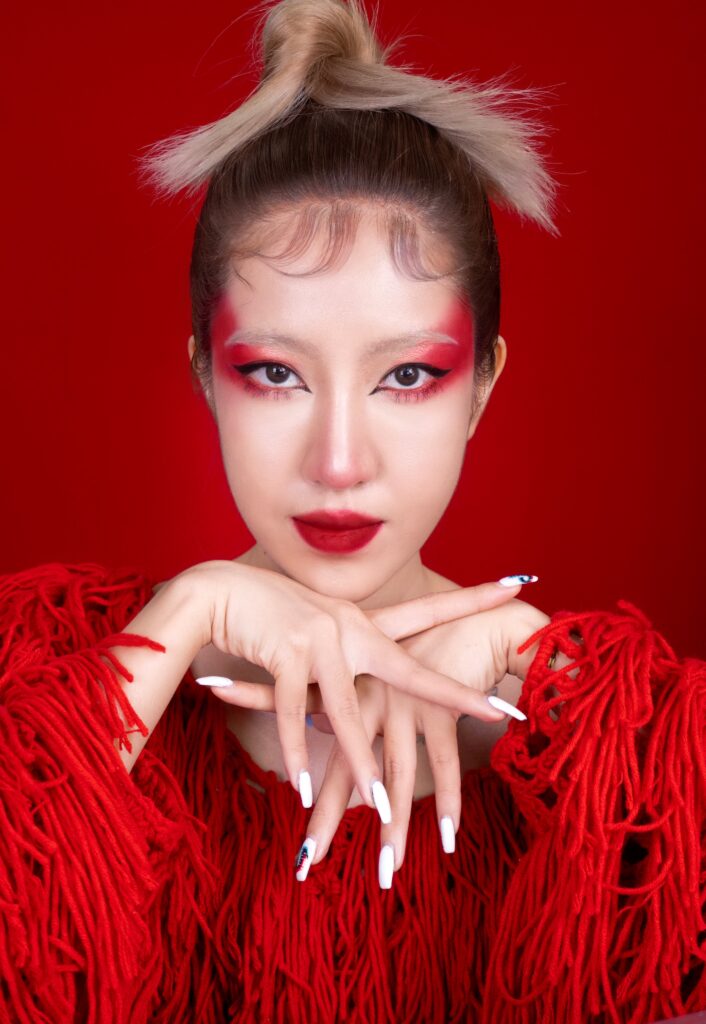 Van Miu is also a professional makeup instructor. Between being dedicated to teaching all she know and keeping knowledge for herself, the "makeup witch" chooses DEDICATION.
PROFESSIONAL MAKEUP TRAINING
Makeup Artist Van Miu